Testimonials and Awards
Best of Long Island 2015
White Ink Photography was nominated for the 3rd year in a row for Best Long Island Photography Studio. Voting will take place until Dec, 15 2014. Feel Free to Vote at http://vote.longislandpress.com/engine/YourSubmission.aspx?contestid=144511 Once a day per IP Address.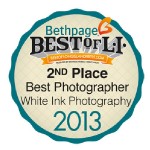 Long Island Press
The Long Island Press nominated White Ink Photography for their Best Of Long Island Issue for 2013. White Ink Photography was Awarded 2nd place Best Long Island Photographer for 2013.
Amanda is wonderful!!!
"I have recommended her over and over again to friends and everyone has loved her work! She is beyond patient and will wait to get "the shot"! I can't say enough about how happy I am with her. I will be using her over and over again!!!" ~Posted by Jaclyn Tannazzo
Impressed!
I found White Ink Photography through a friend of a friend and have been so pleased with her work that I have had her photograph my son at 3 months old, 7 months old, and have recently scheduled his 1 year old cake smash pictures! Not only does Amanda have a talent for capturing some precious moments, but she arrives with tons of equipment, patience and excitement for capturing these special times. Amanda actually comes on location (I have had her come to my house) to take the photos, which is so convenient, especially when you have a baby. She shows up with all her equipment from backdrops to baskets, small floor coverings, etc. even space heaters! Very impressive. One of the main reasons I continue to ask Amanda to photograph my family is her abundance of patience. Any mom knows how difficult it is to get a baby to be comfortable, sit still and smile on cue! I found Amanda happy to wait for that perfect shot and act silly in the meantime (in order to get baby to smile). While it costs to have someone with this kind of talent come to your house to photograph a baby, I find Amanda to be reasonable and affordable! I am a huge fan and would recommend using White Ink Photography not only for newborn photo sessions but also to capture life's milestones. ~Posted by Katie S
Thank you so much!
I cannot stop looking at Matthew's newborn photos, you did an amazing job and you were wonderful with him! ~Posted by Gina W
You're the best!!!!
I received my cd in the mail yesterday and our photos are so beautiful. I am having a hard time picking out our birth announcements because I cannot decide which photo I love the most! Thank you so much!!!!!! ~Posted by Nicole F
SO Sweet!
AWWWWW! I have a tearin my eye! It's amazing how you make my daughter more beautiful! Thank you Amanda. ~Posted by Carol E